Tether is a magical internet money issued by world's biggest cryptocurrency exchange Bitfinex, located on Taiwan and incorporated on British Virgin Islands. It was designed as a mean to launder money and to delay the insolvency. Bitfinex doesn't convert cryptocurrencies sold on their platform to USD, but instead to their cryptocurrency "Tether", listed as USDT – I'm pretty sure this resemblance in name is deliberate to confuse owners, that don't even know understand that they own "Tethers" and not dollars.
Fortunately, Tether can be easily tracked, because it's on Omni blockchain, maintained by Bitcoin network, so all transactions are transparent. Here's how much money was flooded the market in last few days as a desperate effort to delay the inevitable – the insolvency of Bitfinex.
Here's how much magical internet money Bitfinex has printed this year:
January 20 – $100,000,000 USD (updated, another 100 mln :O)

January 19 – $100,000,000 USD (fresh off the printers, so just updated article!)

January 18 – $100,000,000 USD

January 17 – $100,000,000 USD

January 16 – $100,000,000 USD

January 14 – $100,000,000 USD

January 4 – $100,000,000 USD
Yep, that's more than half a billion USD in a few days. Take into consideration that there shouldn't be any reason to do this, because cryptocurrency market cap is shrinking since December and not growing. You can see this directly on Omnichain or on Twitter account that gathers all this data.
Last year Bitfinex printed USDT in batches like $25 mln, then $50 mln, but now they seem to go all in with their printing services, which means that this exchange is in desperate need of money and tries to cover their growing deficit with pile of printed and useless "Tethers".
So can they print endless amount of this fake internet coins?
Oh yes, they can. Take a look at Tether Terms of Service.
PURCHASE AND REDEMPTION OF TETHERS: The Site is an environment for the purchase and redemption of Tethers. Once you have Tethers, you can trade them, keep them, or use them to pay persons that will accept your Tethers. However, Tethers are not money and are not monetary instruments. They are also not stored value or currency.

There is no contractual right or other right or legal claim against us to redeem or exchange your Tethers for money. We do not guarantee any right of redemption or exchange of Tethers by us for money. There is no guarantee against losses when you buy, trade, sell, or redeem Tethers.
Holy crap, this statement is comedy gold and such outrageous declarations would be punished by financial authorities as prohibited clauses in EU or US – but apparently not on Virgin Isles. Bitfinex is laughing straight into your face, telling you that Tether is worth exactly zero and you have no rights nor legal claims whatsoever to this magical internet money. That's why they can print it like a Zimbabwean Dollars. Wells Fargo has already severed ties with this company and closed their bank accounts. The result? Bitfinex must use small, non-US banks to accept deposits from customers worldwide and were forced to stop issuing Tethers to US customers:
Beginning on January 1, 2018, Tether Tokens will no longer be issued to U.S. Persons.
Still not convinced how much of a scam is this? Then take a look at their "About" page and try to contact them: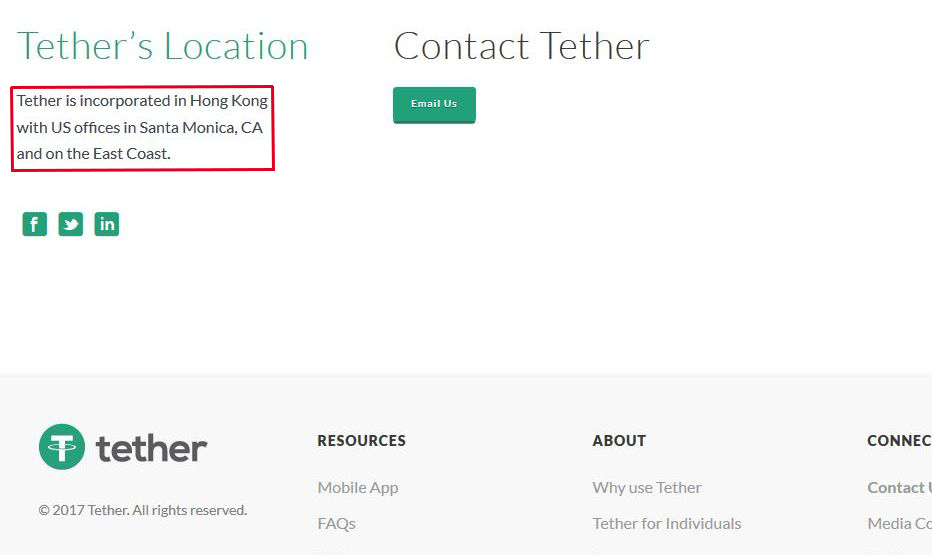 There is no entity data, no telephone, no address, there is not even a contact form, nothing. You won't even know who is selling these fake internet magical coins, because the only information that you can get is that they are "incorporated in Hongkong" (which isn't even true as revealed in Panama Leaks) and "have offices in the US on the East Coast" (sure buddy). And this mysterious, unnamed company holds billions of dollars on their accounts for clients worldwide and try to ineptly pose as serious business.
But there is one moment when that will suddenly stop. When large numbers of cryptocurrency owners tries to withdraw their deposits from Bitfinex, whic typically occurs during dips like the one we have now, it would qucikly all fall apart, because there would be no real dollars to back up this "Tethers". And it's happening now. Users from /r/bitfinex are reporting that they can't get their money out from this exchange under various pretenses, their accounts are frozen, their deposits are missing. Just take a look at it yourself, and you will see now literally thousands of cases piling up from despairing users.
Take a look especially at the guy who got $1 mln frozen. It's real, and Bitfinex don't want to give him back that money, blatantly stating that "His money have been stolen from another user". But sending that much cash to Taiwanese company located in tax haven is really foolish anyway.
So when will this end?
Bitfinex can't cope with withdrawals and will be soon insolvent. They printed now too much Tethers and it got out of hand. They are doing this every day, since last 5 days, which means that situation out there is really desperate. I bet we'll see another $100 mln printed today, and then tomorrow.
Since Bitfinex is incorporated in tax haven, in case of insolvency you'll be able to do shit, as in the case of Bitconnect that exit scamm'd with $2.5 bln three days ago. In case you wonder where is that, British Virgin Islands are located between Haiti and Antigua and Barbuda Islands. This tropical location enables their owners warm weather, cold drinks and hot women, but that might not be the only reason why this company is registered on this exotic paradise. 45% of offshore companies are located on British Virgin Islands, and that allows them to skip these US, Chinese or European bugging financial laws and don't be subjected to pestering financial authority like SEC or even police or IRS, in case something goes wrong. Don't count that US law enforcement will help you, when your money magically disappears (unless United States decides it's time to "democracy them" with tanks and blackjack). Also, if you want to sue this company, you need to fly there and file a lawsuit in a local Virginean Isles court. Well, good luck with that.
Update: two hours later, January 19
Yep, Bitfinex printed another $100 million Tether on January 19, making it $0,55 bln this month. Who could've guess? 🙂
Update 2: January 20, 7:00 AM
Just printed another $100 million Tether, making it $0,7 bln this month. Take that, FED!